How does the SkyMall business model work
By now you have heard about the Chapter 11 bankruptcy protection filing for SkyMall, the iconic airline shopping catalog. For a quarter century, SkyMall marketed its products to up to 650 million airline passengers each year, according to the company's own survey statistics, which also claimed that 70% of passengers read through the catalog on every flight. Having negotiated contracts with most of the major air carriers in the United States, 90% of passengers found themselves within inches of the latest SkyMall catalog. The company claimed in 2009 that 60% of its sales came through its website and accounted for $80,500,000 in revenue. From this number, it is easy to deduce that the remaining catalog orders yielded total sales revenues of over $134,000,000.
After the typical passenger had read through the airline magazine, even before memorizing the locations of the nearest emergency exits, the next item of interest in the seat back pocket was usually the latest SkyMall catalog. In it, you could find everything from a robot to clean your roof gutters to a laser helmet that would regrow hair on a bald head to a pepper grinder that looks like a full-sized baseball bat. Ahem, let's just say that they sold the same kind of non-essential merchandise that is hawked on late-night cable TV.
Anyway, parent company Xhibit Corp complained that the reason for the demise of the SkyMall catalog had less to do with a stagnant concept and a goofy product line than the onslaught of digital devices that are now permitted for use in-flight. Now that weary travelers could access Google, eBay and Amazon, where they could also compare prices and read reviews, why would they want to thumb through a catalog? In fact, Xhibit Corp's acting CEO, Scott Wiley, actually insinuated that SkyMall was a victim in the process that led to its downfall.
The fact is that SkyMall evolved from its initial concept back in 1989, when it actually relied upon the technology of the time, and was hemorrhaging massive amounts of cash. At that time, it was supposed to stock all of the catalog's merchandise in a network of warehouses located near airport terminals. Customers were supposed to place orders using the "air phones" that used to be built into the backs of airline seats, after which the items were supposed to be rushed to the airport's baggage claim for pick-up by the customer. Take note of my emphasis on the word "supposed". The concept didn't work, but the company did not throw in the towel.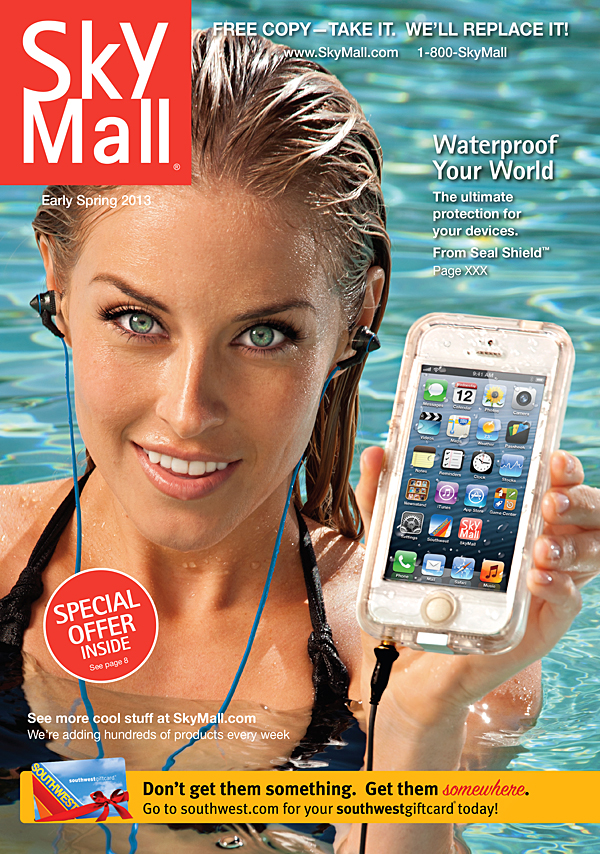 The rebranded concept would now feature goofy products that the company did not own or warehouse, with the individual manufacturers of those products paying for the privilege of display advertising space in the SkyMall catalog. The company now made its money from the sale of that advertising space, either through (higher) flat rates (what they called their "Advertising Program") or lower rates that would be supplemented by a percentage of sales (what they called their "Merchandising Program). In each instance, SkyMall also charged its advertisers a 5-6% "operational fee". The advertisers would then be responsible for drop-shipping the merchandise to customers. The least expensive advertising space in the quarterly catalog was a quarter-page, where the most recent flat fee amounted to $41,100.00. Clearly, advertisers needed to sell a lot of baseball bat pepper grinders just to recover that advertising cost, let alone turn a profit!
If SkyMall reinvented its business model once, it could have done so again, rather than simply claiming that it was a victim of advances in technology. If airline passengers are picking up their smartphones and tablets instead of a catalog that is admittedly expensive to print, find a way to get your product onto those mobile devices. If you look at the company's most recent business model (the one that led to the Chapter 11 bankruptcy filing), you will see that it is based upon advertising sales rather than a regard for the customer, and that concept is a formula for disaster. To succeed today, particularly in what is essentially an e-commerce model, a company must engage its customers and play the game on the customers' terms, with an emphasis on service rather than sales. A company needs to build long-term customer relationships, not simply generate one-time sales; however, when the business model is primarily based upon advertising sales, there is little incentive to build loyalty with the end consumer. There is actually a disconnection in this regard.
What does this all mean for your campground or other small business? The first question to ask yourself is whether you are operating under a 25 year old business plan. Believe it or not, there are still campgrounds that do not accept credit cards, despite the fact that customers overwhelmingly want to use credit cards. There are also campgrounds that do not process reservations online, requiring customers to call them and inevitably enter into a game of telephone tag. In those instances, the customer is almost always going to be the one to call it quits, finding another campground that will process the reservation online and accept a deposit using the credit card of the customer's choice.
How about your website? A majority of your customers are surfing the Web using mobile devices. Is your website mobile-friendly, or is it driving those customers away? How about your activity schedule? Are you still doing the same old, same old Christmas in July that you were doing back in 1979? How about your office practices at the time of arrival and registration? When guests are exhausted after a four-hour drive in Friday afternoon traffic, are you making them wait even longer at an inadequately staffed registration desk?
Using the SkyMall experience as a guide, take a close and honest look at your own business, putting aside practices that may have worked 25 years ago but are a bit out of touch with today's rapidly changing world and customer expectations. Embrace not only the latest technology, but embrace the customers that are your key to continued success!